Rainbow Shot Challenge
Alright all.  Cherry threw down a challenge for me this week so we're gonna make a mess and have some fun.
Rainbow shots.  A row of shots in the colours of the rainbow.  I'm not even sure where to start to explain this one.  If you want to try this with me on Friday night during the Cherry show, you need Grenadine, OJ, Sweet and Sour mix (if you want) Vodka or rum and Blue Curacao.  You also want 5 – 7 shot glasses.  Lots of crushed ice and a few towels.
Bottom of your shaker, layer in 1/2 ounce of Grenadine, layer in some ice over the Grenadine then pour in 6 ounces of OJ, over the back of spoon into your shaker.  Next layer in a bit more ice and add 1 ounce of vodka over the back of a spoon.   Before you do the blue curacao make sure you are ready to pour.  3/4 ounce of Blue Curacao around the top edge then get your strainer on the top and pour quickly moving from glass to glass.  Note that instead of OJ some people prefer pineapple juice and some prefer a mix of OJ and Sweet and Sour mix.  Choose what suits your tastes best.  These shots are by no means an easy feat. As you can see in my pic, my colours are a bit muddy still.  So show up Friday night during Cherry's show and see if I perfect this little party trick.
xoxo  ~Kas~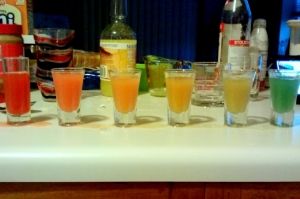 This is the video that started it all. 
http://www.youtube.com/watch?v=MoVZoCmkdjY
This site was also very helpful 
http://www.thefndc.com/how-to-make-rainbow-shots/
Sorry the picture is so ghetto. I was practicing in the kitchen for easier clean up 😀